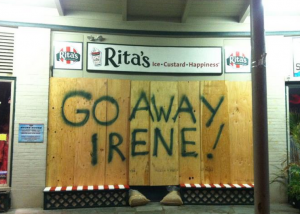 Bracing for the mother storm, all the hatches are battened down and the island of Wildwood is a ghost town. Early today I wasn't all that concerned but by afternoon there was a voluntary evacuation of Cape May County and then a mandatory.  Governor Christie describes Hurricane Irene as a "serious, significant event."  She's pissed off and on a direct collision course with Cape May.  Nothing is more thrilling and terrifying than being in the middle of this story.  By evening everything was getting boarded up, bumper to bumper traffic trying to get off the island and maybe a few lone cars coming onto it.  Lines for gas at the Wawa on Rio Grande were wrapped around blocks.  "It's like the whole world's coming to an end down here," said a dad inside with his kids who were in deep anguish that the deli was closed (as was I).  Hours later the Wawa was boraded up and closed.  Now, anyone from the Philadelphia/South Jersey area knows that when you can't depend on the most dependable place in your life, you have some real troubles…
The fun, trendy Cabanas Beach Bar and Grill which stands across the street from the beach in Cape May hosted a "Hurricane Party."  Let's just hope the hurricane party wasn't the "we're gonna be wiped out party.."  I've never really seen anything like it before in my life.  Some of my best friends, Steve York from First Things First and Matt Worrell, creator of Shwirladelphia (a blog that fell off the map) drove down for the experience.  The expressway and Parkway north were parking lots (but the tolls were free)… South bound was essentially empty.
We rode our bikes to the sea wall in North Wildwood, realizing the island was ours.  Right now it's the calm before the storm, but the "once in a 50 year" monster is making her way up the coast and will likely be a category 2 once it barrels up the Jersey Shoreline (Katrina was a 3).  A track which it is likely to take, over Atlantic City and Manhattan will bring intense winds westward to Philly.
I have to admit that this is incredibly exciting.  Of course I fear mass damage and people getting hurt or killed and I pray that everyone (including me) will be safe.  Though something like this only comes once in a lifetime.  For everyone who's braving it out here on the island, Godspeed!
Stay tuned for more updates.